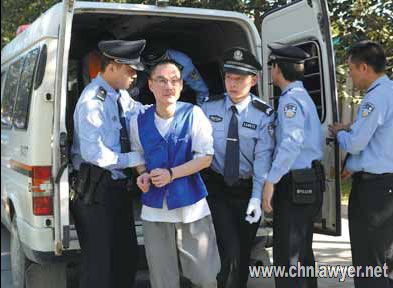 Han Lei, who killed a two-year-old girl by throwing her to the ground in Beijing, is escorted to the Beijing No 1 Intermediate People's Court, where he was sentenced to death on Wednesday. He said he will appeal the sentence. Li Jia / for China Daily

Judge rejects defendant's claim that he mistook stroller for handcart

A man who killed a 2-year-old girl by throwing her to the ground was sentenced to death by Beijing No 1 Intermediate People's Court on Wednesday.
Han Lei, 39, had thrown a stroller with the infant to the ground after arguing with her mother about a parking spot in the capital's Daxing district on July 23.
The girl, identified as Sun, died of serious head injuries in a hospital two days later.
The court also sentenced Han's friend, Li Ming, to five years for harboring a criminal. Li drove the car in which Han escaped from the scene.
On the evening of the assault, Han and Li were going to a karaoke bar with friends after they had been drinking. Han argued with the mother because she was standing in the parking spot he wanted as she waited for a bus station just before 9 pm.
During the trial last week, Han said he was heavily intoxicated and the light was dim, so he mistook the stroller for a handcart. He said he had not meant to harm the child.
However, video surveillance footage from the scene showed light from the car was bright when Han threw the stroller. In addition, Han was able to clearly tell Li an escape route, "which showed the convict had awareness at the time of the assault," Judge Zhang Peng said.
Han was sentenced to life in prison for car theft in 1996. Life sentences in China can be commuted and Han was released in October 2012.
Under Chinese Criminal Law, ex-convicts who intentionally commit another crime within five years of release from prison can receive heavier punishments.
Considering the greatly negative effect the case had on society and Han's previous crimes, "we have decided to give Han the death penalty," Zhang said.
Han said at the court on Wednesday that he would appeal the sentence.
The lawyer representing the victim's parents demanded compensation of more than 2.73 million yuan ($446,000) during the trial last week, but withdrew that request on Wednesday.
Zhao Li, a criminal lawyer in Beijing, said the court's ruling was reasonable considering the circumstances of the case.
"After all, in the video, it looked like Han could see the child. I believe the court was right to pass the death sentence," he said.
Han's older sister Han Jing said by telephone that her family was deeply saddened by the sentencing.
"My brother spent much more time with his friends when we were young. He likes making friends, and he would listen to them instead of me," she said.
When he was a teen, Han Lei stole a bicycle. "I couldn't understand him - my mom always told us to be loyal and honest," she said.
When he was 22, he stole a car and was imprisoned for that crime.
"We encouraged him to be careful in choosing his friends, but he didn't listen to us," his sister said, adding that her parents felt ashamed of his thefts.
"The past two months, or these years, have been excruciating for our family," she said. "It may be an end for that today."
caoyin@chinadaily.com.cn