Judges told to take measures to safeguard the rights of attorneys during court hearings
Chinese courts have been ordered to introduce measures to ensure the safety of lawyers during trials and punish those who threaten or beat attorneys, according to an official at the country's top court.
A new guideline on protecting lawyers' rights was issued by the Supreme People's Court on Tuesday.
Under this, judges should take "necessary action" promptly to protect lawyers who may be injured in clashes with litigants during case hearings, said Guo Feng, deputy director of the top court's research office.
"Judges should stop those who beat, threaten, insult or defame lawyers during trials, and punish them in line with the law," Guo said.
During previous trials, some judges interrupted lawyers and did not provide them with sufficient time to defend cases, while in rural areas it has also been difficult to enforce lawyers' right to meet with clients or read case-related material.
Guo said the rights of some defense lawyers to apply for the removal of evidence gained illegally and to read or search judicial material are still hard to protect, adding that the guideline will deal effectively with this situation.
Online platform
The guideline was issued after a regulation from the Ministry of Justice, the Ministry of Public Security, the top court and the Supreme People's Procuratorate on Sept 16.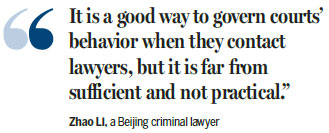 It also states that Chinese courts should establish an online platform for lawyers to file lawsuits, trace cases and receive judgments.
Zhao Li, a Beijing criminal lawyer, welcomed the guideline, saying it will act as a legal reference point when attorneys deal with cases and will protect their rights.
However, he added, "It is a good way to govern courts' behavior when they contact lawyers, but it is far from sufficient and not practical."
He said the guideline can only protect lawyers' safety during trials. "But if we receive threats ... outside of a courtroom, it may be hard to protect us. For example, I was insulted and attacked while I was waiting for a trial to start. In such a case, what should I do?
"Besides, we are rarely told when a case is proceeding, so I hope the guideline will alleviate this problem."
Ruan Chuansheng, a criminal lawyer in Shanghai, said the rights granted to lawyers are highlighted clearly in the guideline, especially their safety, but ways to protect them remain vague.
"If there is no detail, such as the punishment to be handed down after an attack on a lawyer, I will fear for my safety all the time," Ruan said. "I have never divulged my home phone numbers to anyone because of this."
He said the guideline will enable courts and lawyers "to get along with each other, but protecting lawyers should still be improved through legislation".
Ruan suggested that the police and prosecution authorities draw up and specify their own rules as quickly as possible.