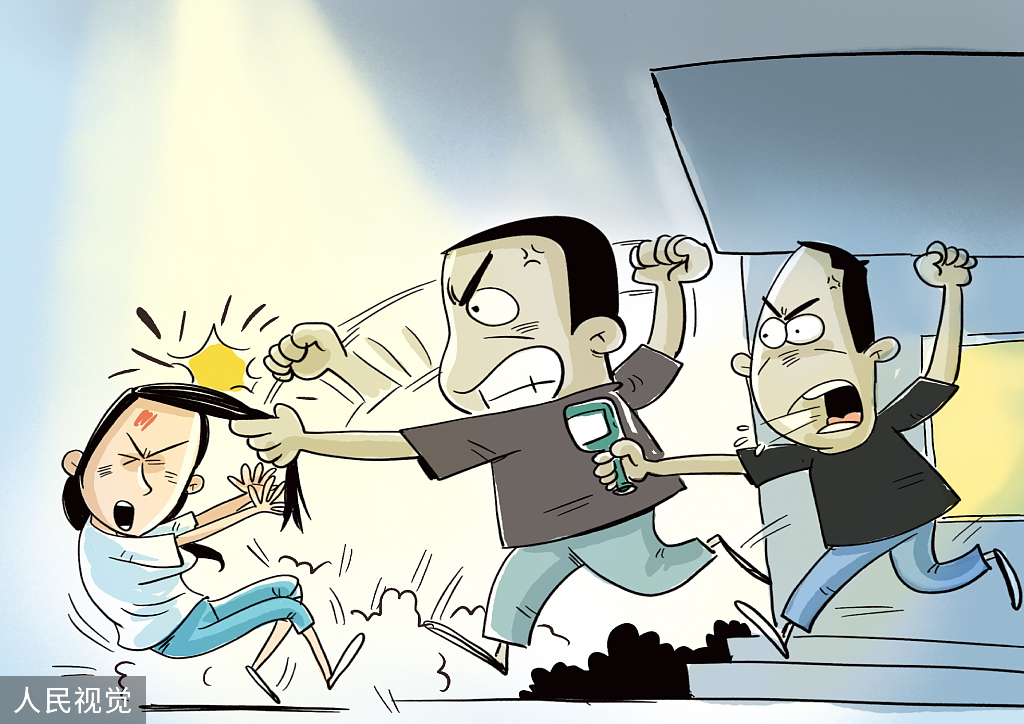 Video footage showing several men assaulting women at a barbecue restaurant in Tangshan, Hebei province, over the weekend has sparked outrage among Chinese people.
In footage recorded during the wee hours of the morning on Friday, a male customer allegedly harassed a female customer and then brutally attacked her after she resisted. The man's companions later joined in, beating the woman and her female friends.
On the video, which went viral online, the female customers can be seen being thrown to the ground, hit and stomped on before the assailants fled the scene.
By Saturday afternoon, nine people suspected of assaulting the women were detained. On Sunday, prosecutors in Langfang, Hebei, approved the arrests.
While following investigation of the high-profile case, netizens have raised a number of questions, including what crimes the attackers will be charged with and whether the incident will be designated as a gang-related crime.
China Daily contacted legal professionals to discuss the case and relevant legal issues.
Question (Q): What crimes could the suspects be charged with?
Answer from Peng Xinlin, a law professor from College For Criminal Law Science of Beijing Normal University:
The male customer's alleged acts of harassing the female customer and gathering his accomplices to beat the woman and her friend have constituted the crime of creating a disturbance.
In the video, the man grabbed the female customer's hair in a public place and dragged her from indoors to outdoors after she refused his harassment. Several of his companions participated in the beating, including some who used beer bottles to attack the woman and her friends. Their behavior has seriously damaged the victims' health and disturbed the public order.
Answer from Zhao Li, a criminal lawyer at Beijing Jingsh Law Firm:
The suspects may also be charged with the crime of intentional injury and affray.
Under the Criminal Law, people will face a sentence of up to five years in prison if they are found guilty of disturbing public order. Those convicted of intentional injury will be given a prison term ranging from three to 10 years if victims are found to have been seriously injured. As for affray, those convicted will also be sentenced to three to 10 years if the offense was committed in a public place using object as weapons, such as the chairs and bottles used in the video.
If offenders' actions involve several criminal charges, the law stipulates that judges should punish them in line with the most serious crimes.
In the Tangshan case, the victims need to keep evidence of their injuries while they are hospitalized, because it will be needed to determine the suspects' charges and eventual sentence.
Q: Will the suspects be harshly punished?
Answer from Peng:
The case happened in a public place, with the involvement of several suspects and beer bottles, so it could be deemed a "serious instance" of the crime of creating a disturbance.
But their sentences will also depend on whether the suspects plead guilty and how much civil compensation they pay the victims.
Answer from Zhao:
I think the suspects will face harsher punishments, as their behavior has seriously harmed the victims' physical and mental health and also had a significantly negative effect on society. Although offering compensation could in theory lead to more lenient punishment, that might not work in this case.
Q: Will the suspects be identified as a gang?
Answer from Peng:
Under relative legal documents, a gang is defined as a group of people who often get together to disturb public order, threaten residents or do illegal activities through violent means in a certain area. It has a negative impact on the area, but it does not meet the criteria of a mafia-like gang.
Whether the suspects in the Tangshan case will be identified as a gang depends on further investigation.
Answer from Zhao:
Whether the suspects can be deemed a local gang would require police and judicial departments to figure out whether they often gather to engage in illegal activities. The designation also depends on how many times they have participated in such activities.
Simply put, a determination that they are a gang cannot be made solely on the beating in this case. Authorities need to ferret out more details.
If you have any further problems with this article, please contact us at app@chinadaily.com.cn and we'll immediately get back to you.